III. MCU
Mikrocontroller besitzen in Unterscheidung zum Mikroprozessor (der auf Rechenleistung getrimmt ist) zusätzliche Peripheriekomponenten On-the-Chip.

So bspw. der AT90S1200 von ATMEL. Dieser RISC-Controller im 20poligen DIL-Gehäuse enthält unter anderem: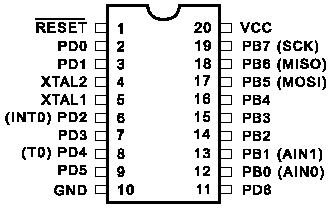 1KByte Flash Programmspeicher
64 Byte EEPROM
32 8-Bit-Arbeitsregister (GeneralPurposeWorkingRegisters)
einen 8-Bit-Timer/Counter mit Prescaler (Vorteiler)
15 I/O Lines (Port B, Port D)
3 Level Hardwarestack
On-Chip RC-Oscillator

The AT90S1200 is a low voltage (2.7V - 6V), high performance CMOS 8-bit micro-controller, based on the AVR enhanced RISC architecture. A rich instruction set is combined with 32 general purpose working registers. Each register is connected to the ALU, allowing two independent registers to be accessed in a single instruction. This allows additions, subtractions, comparisions to be completed in a single clock cycle. The AT90S1200 is a powerful microcomputer which provides a highly flexible and cost effective solution to many embedded control applications.
Atmel AVR-Mikrocontroller
Device
90S1200
90S2313
90S2323
90S2343
90S4414
90S4434
90S8515
90S8535
Flash Memory (Bytes)
1K
2K
2K
2K
4K
4K
8K
8K
EEPROM (Bytes)
64
128
128
128
256
256
512
512
SRAM (Bytes)
No
128
128
128
256
256
512
512
SPI-Master
No
No
No
No
Yes
Yes
Yes
Yes
UART
No
Yes
No
No
Yes
Yes
Yes
Yes
Watchdog
Yes
Yes
Yes
Yes
Yes
Yes
Yes
Yes
RTC
No
No
No
No
No
No
No
No
Timer/Counter
1
2
2
2
2
2
2
2
BrownOut
No
Yes
No
No
No
Yes
No
Yes
Comparator
1
1
No
No
1
1
1
1
ADC
No
No
No
No
No
8Ch. 10Bit
No
8Ch. 10Bit
Voltage
4.0-6.0V
4.0-6.0V
4.0-6.0V
4.0-6.0V
4.0-6.0V
4.0-6.0V
4.0-6.0V
4.0-6.0V
Low Voltage Option
Yes
Yes
Yes (LS)
Yes (LS)
Yes
Yes (LS)
Yes
Yes (LS)
Max Clock@VCC
12MHz (5V)
10MHz (5V)
10MHz (5V)
10MHz (5V)
8MHz (5V)
8MHz (5V)
8MHz (5V)
8MHz (5V)
4MHz

(3V)

4MHz

(3V)

4MHz

(3V)

4MHz

(3V)

4MHz

(3V)

4MHz

(3V)

4MHz

(3V)

4MHz

(3V)

Package
20-SOIC
20-SOIC
8-SOIC
8-SOIC
40-PDIP
40-PDIP
40-PDIP
40-PDIP
20-PDIP
20-PDIP
8-PDIP
8-PDIP
44-PLCC
44-PLCC
44-PLCC
44-PLCC
20-SSOP
44-TQFP
44-TQFP
44-TQFP
44-TQFP